After months of the schools being closed and remote learning becoming the new norm, schools are beginning to open their doors again. 
With this reopening came a great deal of uncertainty for surrounding the new social distancing measures that would be put in place, for parents and pupils alike.
Here at KingsNews, we visited Kings Langley School for a tour, to see the variety of measures they have put in place. 
Walking round the school, despite the number of social distancing measures and cleaning measures that had been in place, there was not a clinical feel about the school.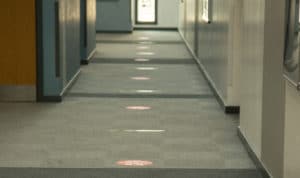 In fact, the school retained a great deal of its character and comfort, and you could see that students felt safe in their new school environment.
When walking round the newly implemented one-way system past the classrooms with students that were not expecting our visit, you could see that they had all settled into the new routine and despite worries nationwide about the behaviour of students, the behaviour at Kings Langley School was impeccable.
Headteacher David Fisher said he is glad the students can come back to school and is proud of both staff and students for all their hard work.
He said: "Education is so important for communities, locally, nationally and globally, our job for the press and for the schools is to get children back into educational settings and ensure not only parents have confidence in the school but also to ensure children have confidence in the school as well."
There has not been any compromises on the curriculum offered at the school as David added that as a headteacher he wanted to make sure that there was a still a broad curriculum on offer despite the new measures in place.
The students for example still have the opportunity to take part in subjects such as PE, technology, art and drama, which allows the students to take part in activities in their bubbles.
All equipment used is then thoroughly sanitised after use, ready for the next bubble of students to use.
David also spoke about the role of the school as a character education school and the importance of the school's values as the children settle back into the school routine. 
These include their three main values of self-regulation, stick ability and empathy. David stressed the importance of the value of empathy during this time.
He said: "There has been a great national front around clapping for the NHS and supporting each other during this period and I don't want to lose that in the school setting.
"You have really got to emphasise with people, when we are dealing with a crisis and what we have got to say to ourselves right that is happening but how do we get back to normal and how we get children back to education and enjoying what they love again."
This sense of normality for students is very important to David, so has ensured that after school clubs can still take place, with the club programme to continue to grow.
He said: "I want them to have more normality. They have lost out on a lot of education and I don't want the kids to miss out any more."
Picture credit: Hoss Photography 
Share this article:
Sign up to get weekly local news updates & offers: