A world class chef from Northwood who's conjured up dishes all over the world is now impressing with his imaginative writing instead, having released his second fantasy kids book.
Ig Oliver, who lives in Northwood with his family, has penned The Butterfly Bee Lady – Part 2, a follow-up to his successful first novel, The Butterfly Bee Lady and the Bee.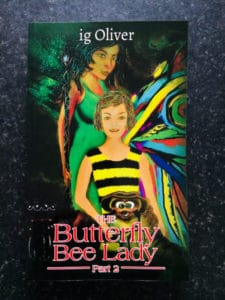 Bee, the daughter of the Butterfly Bee Lady –initially introduced in the first book – continues her journey in this new tale, all of which is accompanied by illustrations from Ig too.
During her adventures, Bee meets a wide range of fascinating characters, many of whom become her new companions.
All the while she finds herself pursued by malevolent forces who want to take away her secret magic: the living pollen crystal stone.
As she undergoes many changes, Bee begins to understand who she is. She realises that she holds an awesome power; one greater than time itself, over which she may have no control.
Ig came up with the concept of Bee when his young daughter asked him to make up a bedtime story for her one night instead of reading. 
He said: "It all just came to me in the moment. I started telling her about this bee and all of a sudden I said a couple of chapters' worth of material aloud. The first book was written for her sort of age group, maybe seven to 11-year-olds – but this one is a bit more intense so it's for children between around eight and 16."
Ig also said he was thrilled to have bookshop giants WHSmith and Waterstones supporting his books and selling them in stores. 
For more information on The Butterfly Bee Lady – Part 2, go to austinmacauley.com/author/oliver-ig
Share this article:
Sign up to get weekly local news updates & offers: