A headteacher from Bushey has said that teaching staff would feel more comfortable with schools reopening if they received the vaccine. 
As the news of the reopening of schools across England on March 8 grips families across the country, the headteacher of a local independent day and boarding school in Bushey has highlighted the importance of vaccinations for teachers and the protection of vulnerable staff and pupils as hundreds are set to return in two weeks.
Lara Péchard head at St Margaret's School explained: "I am delighted that there is now a fixed date in mind for our return to school. Most parents will be very keen for their children to get back into the classroom and to regain some semblance of normality. Even though remote learning for this generation has been a privilege for many, there is also a level of monotony about being at home 24/7, especially for teens who will benefit physically from being in a different space and away from the intensity of the family home."
Ms Péchard is, however, under no disillusion about the work ahead in terms of ensuring everyone comes back in the safest possible way.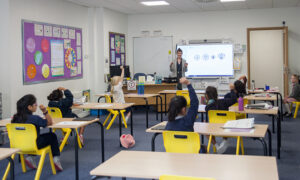 She said: "The idea that everyone comes back to school at the same time is creating a lot of work and headaches for schools right now. Ensuring that the whole process runs smoothly and is as safe as possible is paramount. There are concerns for many schools around how they will test everyone in advance. 
"We plan to have everyone back on 8 March at my school and we are fortunate to have the facilities in place to be able to test everyone safely in advance of their return. Some larger, more cramped schools across the country may not be so fortunate and will find this very difficult."
Whether or not teachers should be vaccinated ahead of schools reopening is a bone of contention for many and it is certainly giving rise to a certain level of anxiety amongst the teaching community, who are understandably worried.
Ms Péchard added: "Teachers are obviously delighted at the prospect of being back in the classroom, but there are always 'two hats' in play. There is the 'teacher hat' where you feel a great sense of responsibility to be doing the day job and to be doing it well. Teachers want to get children back into school again, they want to be back in the classroom and they want to 'lean in' to children during this difficult time. 
"Then there is the other hat, the human hat. Teachers are part of families themselves and the whole anxiety surrounding the community coming back together is completely understandable. As a school, I am very keen to ensure we are protecting the vulnerable and I can foresee, for a few weeks at least, that there will be a need to protect certain members of staff by keeping a remote aspect of learning going."
Should teachers be vaccinated ahead of opening the school gates? The Hertfordshire head believes it would make a difference.
Ms Péchard concluded: "I, like many others, saw the benefit in teachers getting vaccinations early. The Government has quite rightly put a big push on getting schools open again but it is quite hard to have these conversations with teachers if those vaccinations aren't coming through in time. The anxiety is understandable. 
"The argument that you are potentially taking the vaccine from someone who is more vulnerable is a tricky one and I wouldn't want to be the one making that decision. But there is a real balance here, our teachers are going to be teaching hundreds of children face to face and I know most of them would feel more comfortable if they had a vaccine in their arm."
Share this article:
Sign up to get weekly local news updates & offers: