A Radlett resident is starring in a national campaign for megabus to launch a 'Sweetheart Saver' trial ticket which offers free travel for couples in a long-distance relationship to travel between two destinations on its network for a year.
Jonny, 21, is studying and living in Nottingham but his girlfriend Sofie, also 21, is living and working 127 miles away in London. The couple often struggle to see each other due to rising travel costs.
Jonny and Sofie first met by chance in Cape Town, South Africa – and back in the UK, their relationship has been long distance ever since. Fast forward three years, and they are still going strong, despite never living in the same city.
The ticket has been launched by the bus company following new research which has revealed that couples are spending £4,681.40 a year trying to keep long distance love alive.
It also revealed that men spend on average £90.19 more per month than women, with the average couple living 231 miles apart.
Jonny said: "[Seeing each other] on FaceTime and messaging is all well and good but at the same time not being in [Sofie's] presence is challenging."
Sofie added: "We've been together for three years, [the distance] really isn't easy and all I want to do is come home and cuddle, just do nothing…but with him. We have to remember it is all in the short term and eventually [we'll be together]."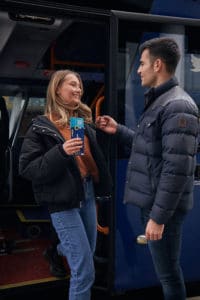 Jonny and Sofie agree being in a long-distance relationship is a challenge with the couple only travelling to see each other around every three weeks and Jonny usually tasked with taking on the long drive down to London. With fuel being expensive, frequent journeys are out of the question and further reduce the opportunities they have to see each other.
Jonny said: "Getting the megabus is cheaper and more convenient than using my car, the Nottingham stop is a short walk from my house and the bus drops you right in central London. It would just give us more freedom to travel as much as we could to see each other."
Sofie adds: "I've got the megabus to Manchester [my hometown] before, but never to visit Jonny. It's more comfortable than the train and it's so great to have the charger sockets for your phone. If [Jonny and I] could've had the Sweetheart Saver, I'd be more inclined to visit Nottingham."
Couples can apply to trial the Sweetheart Saver ticket, which will give 10 couples free travel between two destinations for a year, via the megabus website: https://uk.megabus.com/sweetheart-saver
Share this article:
Sign up to get weekly local news updates & offers: