The Liberal Democrat leader, Jo Swinson today brought her 'stop Brexit' message to Watford as part of her General Election campaign tour. 
Ms Swinson arrived in the town on her new 'battle bus' to visit Sigma, one of the largest independent pharmacy wholesalers in the UK, and was welcomed by the Lib Dem Parliamentary Candidate for Watford, Ian Stotesbury and the Elected Mayor of Watford Peter Taylor. 
Her visit however wasn't welcomed by some locals who heckled her while she was delivering her plans for the country. 
Speaking to WatfordNews reporter Charlie Reynolds, Ms Swinson said she wants to "stop Brexit and build a brighter future for the UK".
She went on: "The Liberal Democrats are the biggest and strongest party supporting Remain. We want to stop Brexit and build a brighter future for the country.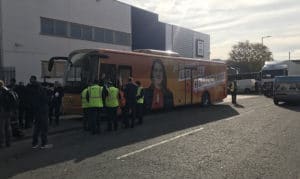 "We have got a clear plan for the future in all areas from mental health plans, to tackling the climate emergency, making sure people get more support for childcare and we invest more in public services and protect more vulnerable people. 
"Stopping Brexit enables us to have £50billion pound of extra spending in extra public services and support some of the most vulnerable people in our society.
"Liberal Democrats have strong plans to make our country better and that's what we intend to do."
In the last General Election, it was a clear two-horse race for the Watford seat with the Conservatives and Labour dominating the charts. 
When asked how the Liberal Democrats can reduce the gap this year, Ms Swinson replied: "There are large parts of our country, many areas where Liberal Democrats are in contention, even in some places where we weren't finishing in the top two last time round. 
"You just need to look at the elections back in May where we made 700 extra gains in the council elections and we beat Labour and Conservatives in the European elections – all of that points that Liberal Democrats are on the up and showing that we are able to win in places where we haven't won before."
Cllr Ian Stotesbury, who is hoping to become the next MP for Watford, said it was great to have the leader of the party here in Watford.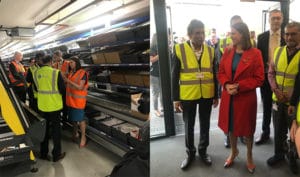 He continued: "I am a councillor here in Watford and I am so proud of how we run the town. People trust in the Lib Dems in Watford and people can trust in me to take the ambition of the town forward. 
"I think it's time we have an MP with that level of connection to the local area. I am feeling that on the doorstep, am feeling positive on the campaign and we will see where we get to on December 13."
Cllr Stotesbury believes staying in the EU will benefit Watford and ensured that he will make sure every penny of the £400million going into Watford General Hospital will be counted for.
He added: "On the back of staying in the EU we will have a Remain bonus which will allow us to massively invest in public services. Moving onto local policies, I am fighting to improve our railway service, fighting to rezone our Watford station and will demand that the money for Watford Gen comes and that it is not another empty pledge."
Share this article:
Sign up to get weekly local news updates & offers: