Volunteers in hospitals are sometimes the glue which keeps everything together and the service they provide sometimes goes unnoticed. 
But the 70,000 patients of The Royal National Orthopaedic Hospital who have been served by the RNOH Buggy Service are full of praise to the 16 volunteers who run it. 
The service, which has been running for over three years, sees its volunteers run patients around the 100 plus acre site from Mondays to Fridays and always with a smile on their faces.
Diane Young, volunteer manager at RNOH, said there has never been one negative comment made about the volunteers.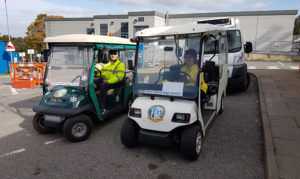 She said: "All of our volunteers are amazing. They really are an incredible bunch of people who are very dedicated and go above and beyond for the patients. 
"The feedback we get is amazing. We have never had a negative comment about the service or our volunteers. Some of them do double shifts if it's busy, they just look after each other and the patients.
"Many of the volunteers who joined at the start are still here now and no matter what the circumstances, they turn up and do it with a smile on their face. Even during the Beast of the East."
Due to the sheer size of the hospital's grounds, the buggy service was implemented to make it easier for patients to get around. 
It is a hop on hop off service and only two second half golf carts are used. 
The RNOH Charity are currently trying to raise money to fund new golf carts to replace the current ones. 
To donate, click here.
Share this article:
Sign up to get weekly local news updates & offers: