A family from Watford have won the trip of a lifetime to Hollywood, Los Angeles all thanks to their lucky mum. 
Archana Somani, from Watford, won the trip of a lifetime for her and her family courtesy of the glittering neighbourhood's UK namesake, Hollywood Bowl. 
The lucky mum entered the competition at Hollywood Bowl, Watford Woodside, while on a family night out – never imagining they would be chosen as the winners.  
Archana, who is a keen bowler and often seen at the centre, was caught off-guard at the gym when news came through, believing someone was playing a prank on her.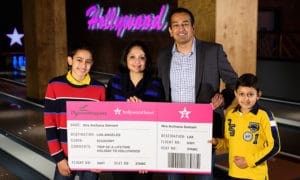 It wasn't until the confirmation email came through that she truly believed the win was genuine, and that they would be heading to Hollywood.
Archana said: "We were on a regular visit to our favourite Hollywood Bowl for a family night out, when I noticed a competition as we were waiting for our lane and decided to enter, I really didn't think anything of it. When I found out we had won I had to step off the cross-trainer, so I didn't fall off."
Hollywood Bowl's Watford Woodside centre manager, Jan Smith, said: "At Hollywood Bowl, we're famous for helping our guests celebrate in style, and what better reason to celebrate than with a trip to Hollywood, our glittering namesake? This truly is a once-in-a-lifetime experience and I'm sure the whole family will love the glitz and glamour of L.A."
Archana added: "We can't wait to visit the walk of fame, and we love hiking as a family, so we plan on doing the popular climb for the best views of the Hollywood sign. It still hasn't really sunk in yet, but the whole family are counting down the days until our trip of a lifetime."
Archana and her family will jet off in February 2020 and will be treated to return flights and accommodation. 
The Somani family also visited Hollywood Bowl on the November 3, where they were presented with their boarding pass for their holiday to Hollywood.
Share this article:
Sign up to get weekly local news updates & offers: