Parents of a 5-year-old boy from Hemel Hempstead are raising money for a life-changing device to help him to communicate through technology.
Alex and Matt Daly created a GoFundMe page for their son Rafe, who was born with two rare chromosome disorders, Phelan McDermid Syndrome and Duplication of 7q.  
Alex told HemelNews: "Rafe can't sit independently, walk, talk or stand. He is unable to do things other five-year-olds can do like playing with toys or feeding himself."  
Rafe's parents set up the page to raise money for a special device that will help Rafe communicate through technology.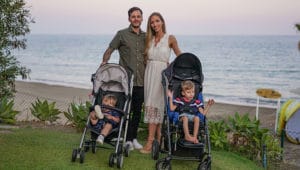 The donations will fund a smart tablet with software specially programmed for the way Rafe's eyes work, pictures will speak out loud and allow him to express his thoughts.
Alex continued: "This device would completely change his life. He is five now and as he gets older, he wants to communicate but he can't which is frustrating. He can't tell me if he's not feeling well or what he wants for dinner. The tablet would help change this."
Rafe, who attends a special needs school in Hemel Hempstead, has been using the sensory device at school for the past few weeks with great success and Alex and Matt hope to replicate this at home.  
The fundraising page was set up on January 21 with a target of £4,000 to fund the special tablet and part-time care for Rafe outside of term time.
Hemel Hempstead brothers Ryan and Dean Cole of Cole Bros Plumbing & Heating work with Rafe's dad Matt and see the daily struggles the family face. 
They have decided to run the Hackney half marathon in May to raise funds and help Rafe and his family have a better quality of life.  
Dean said: "They're a young family that we want to help in any way we can. Matt works for us and he always comes in with a smile on his face and remains positive despite everything. We hope that by doing the half marathon we will help raise the money for Rafe's new device. There are lots of charities, but this is personal to us."
Rafe's condition is so rare that doctors are unable to give definitive answers on his future, he is the only known case in the UK with the same two chromosomes. The device will help Rafe express himself and communicate for the first time.
To donate to help Rafe, visit gofundme.com/f/raise-for-rafe
Share this article:
Sign up to get weekly local news updates & offers: