Local St Albans residents Lee Wood (Ember Designs) and Paul Kingston (BonoboBox) saw people performing warm acts of kindness throughout Hertfordshire during the pandemic and wanted to shine a light on these wonderful gestures, so they launched their #warmherts campaign.
They set up the Facebook Group – @HertsBubbleBuddies and the hashtag #warmherts as a welcoming forum for people to nominate and thank people, businesses and even pets who have gone the extra mile for our Hertfordshire community, their friends and family members.  
They encourage you to join the group and shout out your community heroes.
Lee has worked with Heartwood Glass to create beautiful glass angel awards to be given out to the winners of the main category the #warmhertsangel.  As well as this the overall winner will receive a phenomenal experience and gift supplied by BonoboBox – The Local Giftologist.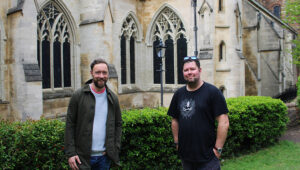 The nominees will be shortlisted by the number of likes their stories get and then the winners will be chosen by a community minded judging panel including:  Alicia Nelson (Save St. Albans Pubs), Nik Allen (MyLocalNews) and Leoni Kibbey (St. Albans Film Festival) and others to be announced.
The new group already has 550 members and has spotlighted inspirational stories of people who have done wonderful, altruistic acts.  
For example Jamie West from the Hare and Hounds who has been working hard feeding the homeless despite his pubs being forced to shut for long periods and Raihannah Ahmed who has pulled together teams to help provide children with laptops during homeschooling, fresh fruit and veg to families and cakes to pensioners.  
The stories from Hertfordshire are inspirational and Lee and Paul want to hear more of these to keep the positivity flowing.
The hope is that by sharing these stories, other people will be inspired to complete their own acts of kindness and keep our #warmherts thriving.
Nominate your own community heroes @hertsbubblebuddies
Share this article:
Sign up to get weekly local news updates & offers: