To mark 75 years since the end of the Holocaust, two granddaughters and their grandfather were captured through the lens in moving photographs taken by The Duchess of Cambridge. 
The photos, which include Steven Frank BEM and his granddaughters Maggie and Trixie Fleet, who both attend Watford Grammar School for Girls, are set to feature in a new exhibition later this year, bringing together 75 powerful images of survivors of the Holocaust and their family members. 
Mr Frank, 84, survived multiple concentration camps as a child, including Theresienstadt where he was one of 93 children, including his two brothers, who survived the camp – around 15,000 children were sent there.
Steven now travels to schools up and down the country to share his story.
The project, run by Holocaust Memorial Day Trust, Jewish News and the Royal Photographic Society (RPS), honours the victims of the Holocaust and portrays the importance of family.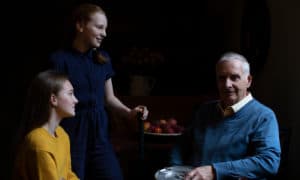 Speaking about the project, Maggie, 15 and Trixie, 13, said it was an amazing experience which told the story of the Holocaust in a different light. 
Trixie said: "It was amazing, The Duchess of Cambridge was really interested in our family and in Opa's story, and the items we brought with us."
Maggie added: "I think it helped put into perspective that he's just our Opa – he's our grandpa as well as a Holocaust survivor. It's important to tell the story so it doesn't happen again."
Kate Middleton, the RPS's patron, said she wanted to make the portraits deeply personal and told them to bring items of personal significance to the shoot. 
Mr Frank held a pan that his mother kept with them in the camps and a tomato from his garden.
The Duchess said: "Despite unbelievable trauma at the start of their lives, Yvonne Bernstein and Steven Frank are two of the most life-affirming people that I have had the privilege to meet.
"They look back on their experiences with sadness but also with gratitude that they were some of the lucky few to make it through. Their stories will stay with me forever."
More recently, Maggie and Steven won a children's BAFTA for a film documenting their trip to Europe to learn how he survived the Holocaust and to discover more about her family's origin. 
Pictures courtesy of The Duchess of Cambridge and Kensington Palace
Share this article:
Sign up to get weekly local news updates & offers: