A bereaved dad has said it is hard to sum up in words the emotion of his new son being born so close to the end of his fundraising campaign for his late daughter.
Ross Coniam, from Garston, described the arrival of his son, Ernie Kieran Coniam as the "perfect ending" to his year of fundraising for #Nine4Norah, where he has raised a staggering £52,185.
#Nine4Norah was created in honour of his daughter, Norah Faith, who sadly passed away nine hours after she was born in May last year.
Speaking to MyNews, he said: "It has been a bit of an emotional few days since Ernie was born understandably, but we are overjoyed, he is just so perfect.
"It is touching to know Norah is looking over us and has sent her mum and dad her little brother – it is the perfect ending to what has been a very proud but tough year."
Throughout the 2019-year, Ross has took on a number of gruelling challenges with his ninth and final challenge, an 18-mile walk from the Thames Valley to Putney, quickly approaching in October.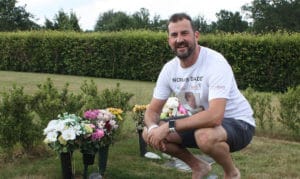 Ross commented: "I am very proud to get through it. There is a lot of relief but mainly I am just very proud. We have raised so much awareness over the year and the money we have raised still doesn't feel real.
"Knowing that we have helped people in similar experiences makes me and my wife feel super proud. I am looking forward to the last one because it will be an emotional one for sure. I am hoping to finish the walk with my wife, Naomi and Ernie which will be a special moment – I know Norah will be there with us, like she has been throughout every challenge."
After completing his final challenge, Ross is focussed on getting some quality family time but is aiming to do some more fundraising events next year.
To visit Ross' fundraising page, visit gofundme.com/Nine4Norah
Share this article:
Sign up to get weekly local news updates & offers: