A garden enthusiast family from Mill End has grown what may well be the largest sunflower in the area.
The Annecchiarico family, which consists of mum Dipika, 42, dad Stefano, 42, and children Flavia, 10, Sairah, eight and Angelica, five, planted the sunflower pictured at the beginning of July, shortly before going away. Upon their return, it had grown a shocking amount. 
Dipika said: "Typically, I thought it would wilt with the British heatwave but in fact quite the opposite!
"We love spending time in the garden. My husband has grown so many tomatoes that we have made eight bottles of passata – the Italian way! Olives too, which are still growing and a vineyard which is yet to grow grapes. We have a fig tree and a chilli plant too."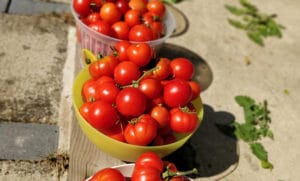 Do you think you can match Annecchiarico family's gardening achievements? Email newsroom@mynewsmag.co.uk with your photos.
Share this article:
Sign up to get weekly local news updates & offers: