A Rickmansworth mother and daughter duo are raising money for two hair loss charities by selling hoodies that promote self-love.
Katie Martell and her daughter Billie own Bow Belles Hairdressers and Wig Specialists in Croxley Green and want to support Alopecia UK and My New Hair by selling comfortable yet stylish hoodies, with all proceeds going to the charities.
Katie told RickyNews: "Lockdown has been hard and many are struggling with mental health and not being able to reach the resources needed at this time. 
"Hair loss sufferers are finding this time especially difficult as they have had literally no access to support groups in the traditional sense and also wig services are limited and coupled alongside this, small businesses and charities have also suffered immensely in terms of revenue.
"During lockdown, Billie and I set ourselves a challenge to help and support them."
Katie explained that the pair wanted to sell hoodies that are stylish, comfortable and appeal to everyone, with a slogan that reads 'self-love is a vibe.'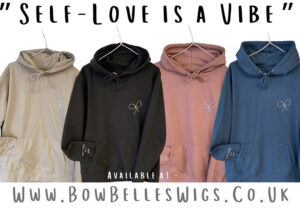 The charity project launched on Friday 12 February, has had a positive response from the community with 50 jumpers sold in the first week.
Katie added: "Instead of buying loungewear from online stores like ASOS, we hope that people will consider buying hoodies from us to help support the charity project."
To purchase a hoodie or find out more, visit bowbelleswigs.co.uk/charity-hoodies
Share this article:
Sign up to get weekly local news updates & offers: