Rainbows are appearing in windows of homes across the country as children bid to spread a little joy during isolation and Garston is no exception.
Children at The Grove Academy on Fourth Avenue were asked to paint or draw a rainbow and then stick them up in their living room window.
Bee Pindoria's four-year-old daughter who is in reception class has been creating her own colourful contribution which can now be seen in the window of the family home on Fairfolds.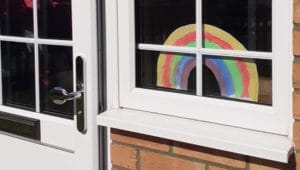 Bee explained: "She is deeply missing school and her school friends. During this pandemic, children were asked to paint/draw a rainbow and stick them up on the living room window so other children can see. This is so when other children go for walks they can see that other children are sharing the love with them as they cannot see them. 
"I have seen lots of pictures put up and it is so lovely how the community has got together to do this."
Do you have any pictures you'd like to share? Email subeditor@mynewsmag.co.uk
Share this article:
Sign up to get weekly local news updates & offers: