A Bushey based women's football team are marking an important date in sport by organising a commemorative silence to celebrate progression in women's football. 
Mary Musgrove, a photographer from the town, is organising a centenary event to mark the Football Association (FA) ban on women's football on December 5, 1921.
In 1921, The FA banned women from playing on Football League grounds claiming "The game of football is quite unsuitable for females and ought not to be encouraged."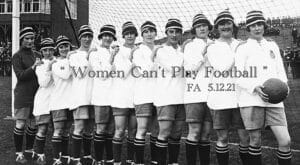 Mary has been following female football since her daughter joined the Garston Ladies team 10 years ago, but only recently looked into the history behind the sport.
Mary explained: "It was only during lockdown that I researched how far women's football has come in the past 100 years, relating to the FA ban on women's football in 1921. This lead me to organise the commemorative and celebration weekend on the first weekend in December with Garston Ladies and Watford Football Club."
Garston Ladies, who are based at the Metropolitan Bushey Club on Aldenham Road, will be commemorating the anniversary with a one minute silence before each game beginning on the weekend of the 4/5th December. 
They are encouraging others across the nation to do the same before women's games, to show support for countries where women's sport isn't allowed for religious or political reasons. 
For more information visit www.garstonladiesfc.co.uk
Share this article:
Sign up to get weekly local news updates & offers: